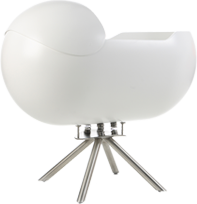 Our company has worked for ten years in the marine field. We design and assemble the interior of yachts, following the new trends of architecture.
We therefore complemented by professionals trained and ready to meet any request.
L 'inspiration of the S I N U E cradle was born the day when my wife and we knew that we would become parents. A joy so 'great; always something unexpected!
We designed the profile of the object along the line of the belly of my wife Daniela and from there 'we have made progress using techniques familiar to us to design furniture industry.
The shell is made of resin for ergonomic food (non-toxic), the leather used is a leather "flower" natural, tanned with herbal additives, formed by strips sewn by hand with double stitching on sight. The legs are stainless steel and in the final model provides 4 soft extensible "SUPERFLEX" calibrated to withstand a weight of 45 kg and sliding retractable wheels. The other proposed model differs only in the coating that consists of a non-toxic paint, usually used for toys (not scioglibile with saliva).
In thanking you for your attention, I invite you to call any other application to satisfy all your curiosity.
SINUE's staff